TYPING USING THE UNICODE
1.
Download
NIDA-KhmerKbd-1.0.zip
(Keyboard Layout is included in the zip folder) then extract everything and save it on your desktop. Then locate and click to install it on your computer.
important:
must extract everything in the zip folder before click to install the driver.
2.
Go to
Control Panel
and to
Regional and Language Option
Select
Languages
tab and click on
Detail...
in the
Settings
tab click on
Add...
in the
Input Language:
option, scroll down and select
Catalan
in the
Keyboard layout/IME:
option, check and scroll down then select
Khmer Unicode Keyboard (NIDA 1.0)
Click OK or Apply as many time as needed to finish and you will see the Language Bar appear which locate at the bottom right hand side of your screen. To type Khmer on the Forum, in Microsoft Word or any typing application, simply click on that image and chose
CA:
Catalan
and start typing using the Layout provided as a guide.
SEE SAMPLE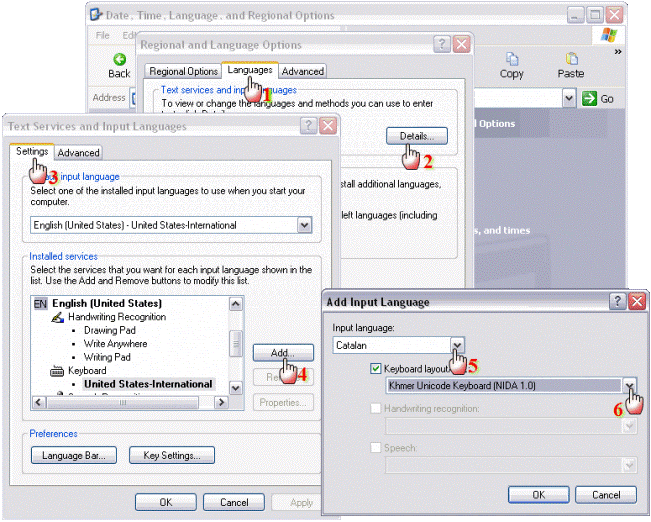 For Internet Explorer 7, 8 browser: After following the above step and you have problem viewing/typing/respond Khmer on the Forum please try the following.
Internet Explorer
window click on
Tools
and select
Internet Options
2. In
General tab
click on
Fonts
3. For
Language Sript
, choose
Khmer
4. For
Webpage font
, choose
Khmer OS
5. Click
OK
or
Apply
as needed to exit.
(See sample below)